Faculty User Guide
Metadata Tags
 |
Sage Recommends
 |
Citations
|
Advanced Search
|
Research Tools
Every piece of content on Sage Research Methods is tagged by method and discipline. Additional metadata tags are available based on content type. 
Metadata tags are especially useful for discovering related content across content types. For example, if you're teaching with cases, you can find related cases, videos, books and methods by clicking on any of the method, discipline, sub-discipline, keyword or academic level tags.
Look for tags on content pages in the title information. Click on "More Information" to view all clickable metadata. In the example below, you can find related content on "Grounded theory," "Focus groups," "Axial coding," "Postgraduate" academic level, "Health," and "General Health and Social Care."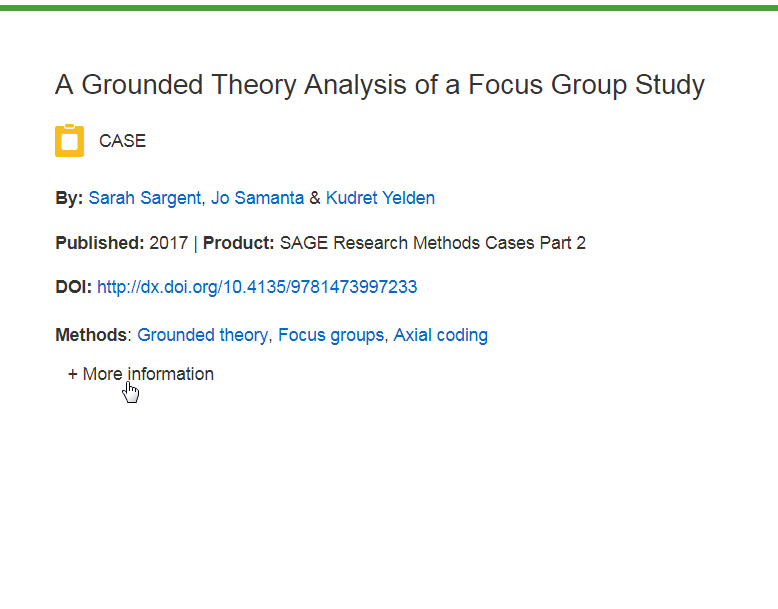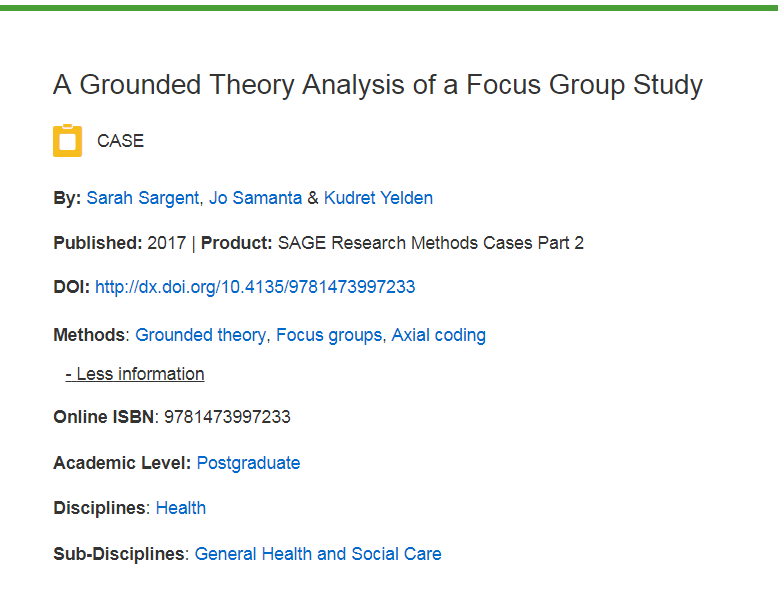 The chart below shows a full list of tags available for each content type.
Metadata Tag

Boo

ks and Reference

Cases

Datasets

Video

Method

x

x

x

x

Discipline

x

x

x

x

Keyword

x

x

x

x

Data Type

x

Academic Level

x

Sub-discipline

x

Video Type

x
Sage Recommends discovers content that you might find interesting from other Sage sites, based on what you are currently reading. It's a great way to discover relevant or interesting material that you might otherwise have missed, including journal articles, case studies, reports, and even numerical data. Recommendations are generated based on linguistic similarity between documents, supported by a bespoke, multi-disciplinary ontology that extracts the important concepts from the material and compares them to all of Sage's other online content. If there is very little textual content then there often there is not enough material to use as the basis of comparison to other documents. This is most often seen with very short dictionary entries or encyclopedia stubs. 
The Sage Recommends tab appears on all book chapter, reference entry, case, dataset and video pages on the far right hand side. The tab doesn't appear on book landing pages, but if you want to find content that's relevant to a book as a whole just navigate to the introductory chapter and go from there. The screenshot below shows what the Sage Recommends tab looks like when it's expanded.
By default the recommendations are sorted by relevance, but you can also use the drop-down filter to show the most recent content first. Clicking on a link will take you to that content in a new tab so you don't lose your place. If you're not sure why something is relevant, just hover your mouse over the link and you'll often see a tool-tip that tells you what concepts the link has in common with the material you're currently reading. 
Use the Sage Research Methods citation tool to easily create citations for any course list or works cited page. The citation tool is especially useful for non-traditional content types, such as video or cases or Project Planner. There may not be direct examples for citing these content types elsewhere, but you can trust that we here at Sage have done the research across the 4 major citation formats. Additionally, you can export citations into your citation manager of choice.
Look for the "Cite" button at the top right of every content page.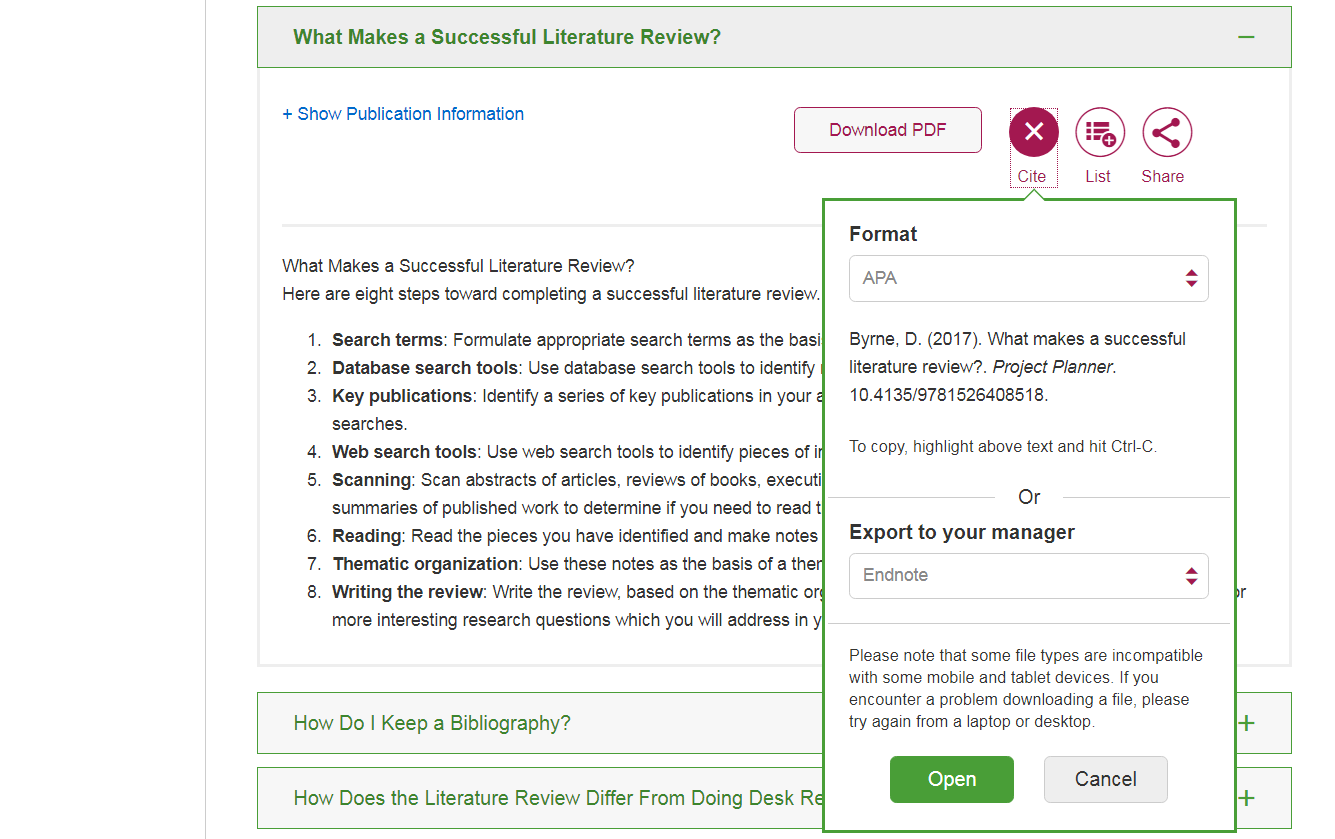 Sage Research Methods' Advanced Search can be useful for faculty when they're looking for a specific piece of content, or trying to find exactly the right content to use in their course. For hints on making the most of the Advanced Search, check out our Advanced Search Tips.
There are four Research Tools on Sage Research Methods, all of which can be useful to faculty in a classroom or research setting. The research tools are:
The Methods Map is an easy way to browse by research method on the Sage Research Methods platform. It is designed to help users understand the relationships between method concepts in a visually dynamic way.
Faculty can use the Methods Map to introduce a new method to students and to give an overview of sub-methods and related methods. Or they can use the Methods Map to dig into a specific method and explain it's relationship to previously covered methods.
For example, if you're starting a section on innovative methods in research design, you can help students visualize concepts and relationships by sharing the screen below. You can click on "View content on Innovative methods (3)" to view all content on Sage Research Methods that is tagged with that method, or you can click into any one of the narrower terms to view content related to them.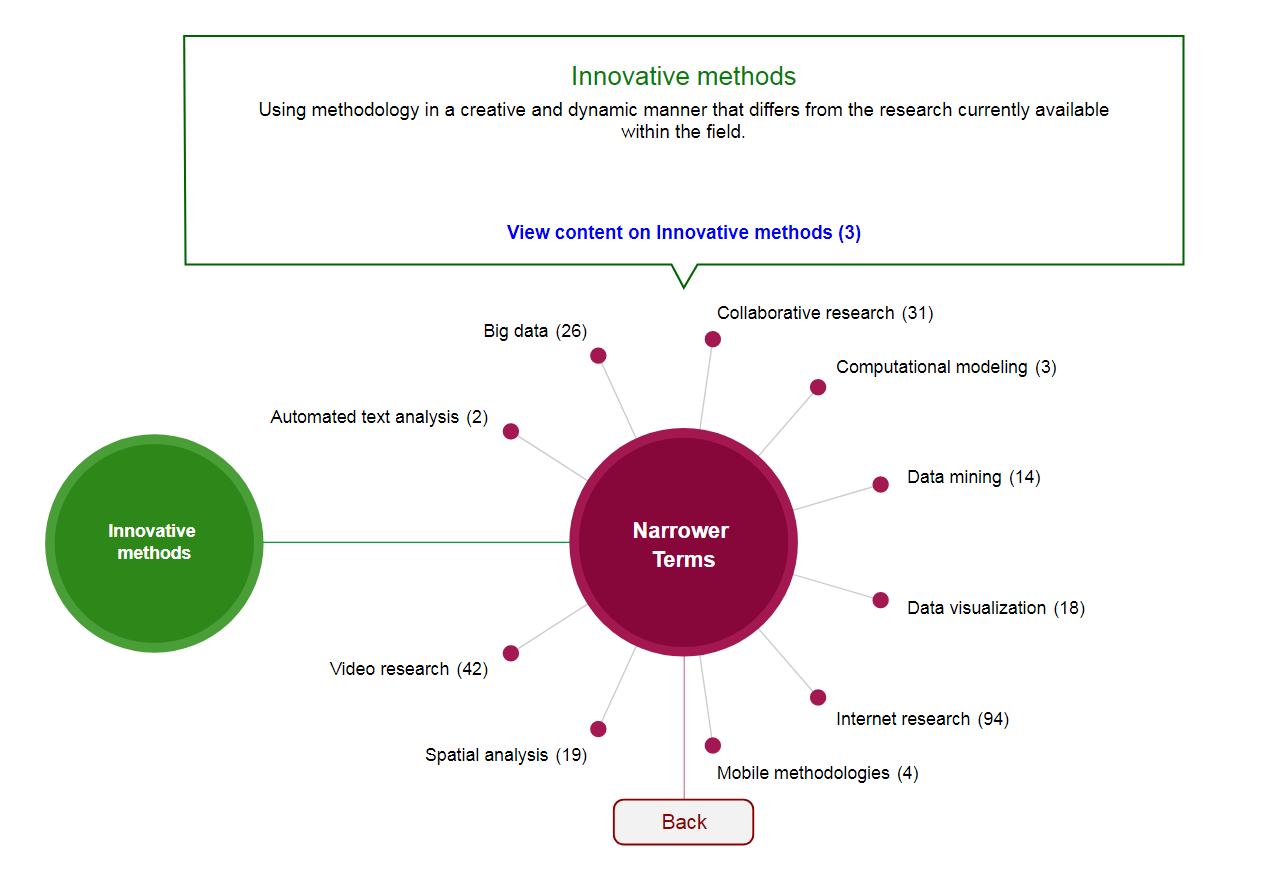 Reading lists are a great way to build customized lists of resources relevant to your course. Faculty can use Reading Lists to build lists of content for their own reference, or to share with students throughout the course. For tips on sharing and embedding reading lists, check out our Embedding and Sharing page.
Create a profile to start building reading lists. Look for the "List" button on any piece of content to add to your list.
You can browse all publicly created Reading Lists on Sage Research Methods and use them in your own classes. Here is an example of a Reading List created for Survey Questionnaire Design.
Project Planner is a step by step guide for doing research. From the philosophy of research itself, to designing a research project, to disseminiating results, Project Planner contains detailed content and instructions on every related topic.
Faculty can use Project Planner for their own research, or they can use it to guide student research. Every stage in the Project Planner flow is described in understandable language, carefully crafted to answer questions and minimize confusion or frustration.
Which Stats Test is an easy tool to help students choose the right statistical test for their data analysis, guiding them through questions on the number and type of variables they have and the type of comparison they are planning. Our helpful links to explanatory content from Sage Research Methods will help guide you to understand terms such as correlation and regression, normal distribution, tests for normality and matched and unmatched data. Which Stats Test will recommend a statistical test for you, along with links to material and Sage Research Methods datasets so you can practice data analysis techniques and improve your statistical analysis skills.