Using Videos, Datasets and Cases
Tips for Using Video in Teaching
Create Clips
If you just want to show a specific section or segment of a video to your students, you can easily create and save clips. Login to your profile, then find the video in question. Look for the "Create Clip" button below the video player. Within the clipping tool, specify an exact start and end date and add a description to your clip. You can save the clip to your profile or to a public list that you can share with students.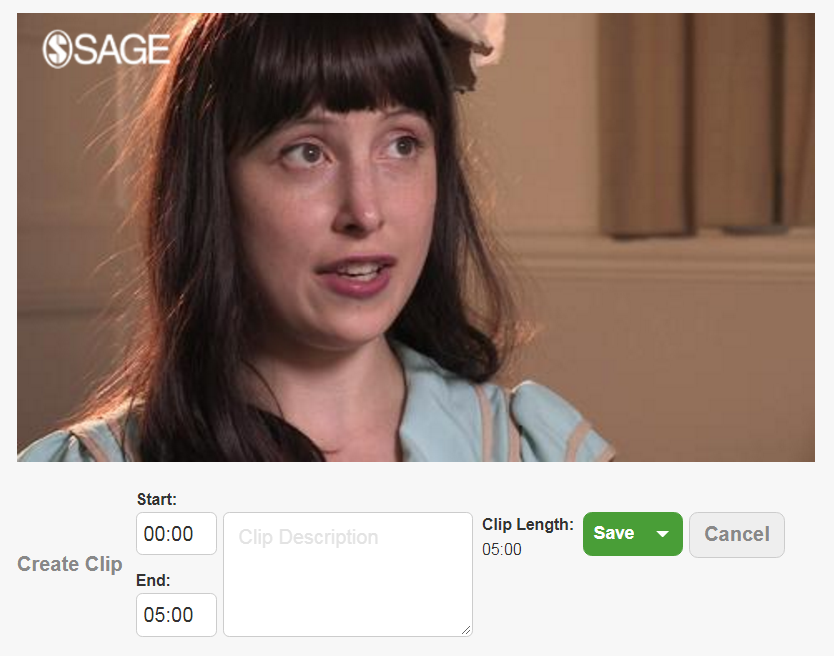 To learn more about embedding and sharing clips, click here.
Downloading Transcripts
You can download a PDF of the video transcript if you prefer to downloaded content with students. Simply locate the purple PDF button within the transcript tab to the right of the video player.
Please consider sharing a video link or an SRM list or embedding videos in your LMS before you share a downloaded PDF. Your library uses site usage information to measure the impact of Sage Research Methods at your university. If students do not use the site, your institution may decide not to renew access to Sage Research Methods.
Set Up Video for Classroom Viewing
You must have an internet connection to view a video on Sage Research Methods. When you want to show videos to students in the classroom, make sure your audio and video setup is good. Try to get everything setup 10 minutes before class. You can adjust volume within the video player, but also check the volume on the device you're using. If your audio is faint, consider using closed captions. 
If you experience technical difficulties, try adjusting the the video quality. If you still have trouble, consider directing students to watch the video on their personal devices. 
Tips for Using Data in Teaching
Datasets are designed to help faculty explain data analysis to students.
Reflective Questions
Many datasets contain Reflective Questions or a review at the bottom of the dataset. Use this section as a homework assignment or to encourage class discussion.
Also using this Dataset
Some datasets are analyzed in several different Sage Research Methods Datasets and can be useful teaching tools. One such dataseries is Cross-Tabulation and the News Coverage Index (2012): The Geographic Focus of TV News Stories. To find other Teaching Datasets that use this dataset, look to the right menu underneath the site and share buttons. In this particular case, it's easy to see a Pearson's Chi-Squared Test dataset, a Frequency Distribution dataset, and One-way and Two-way ANOVA datasets that use the same data.
Download Formats
You can download the data found in each dataset by in the Dataset and Guides tab.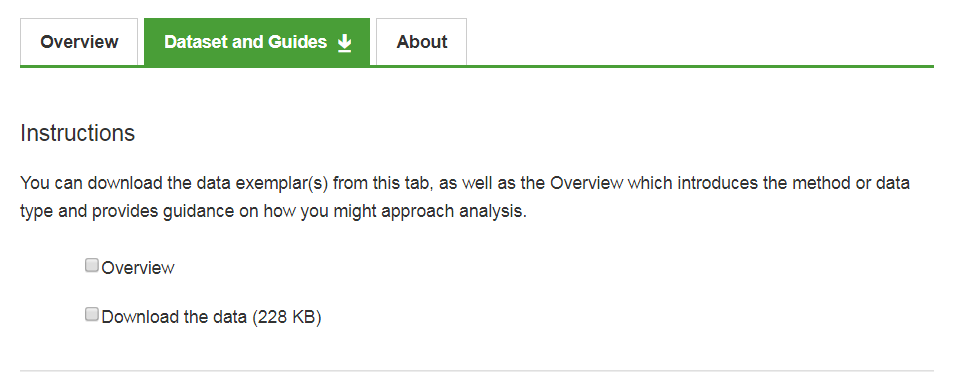 To learn more about dataset file types, click here.
Tips for Using Cases in Teaching
Learning Objectives
Every case study contains a Learning Objectives section below the abstract. Use this section to help guide your discussion and assess your students' understanding of the methods and outcomes.
Exercises & Discussion Questions
At the end of every case study, there is an Exercises and Discussion Questions section. Use this section as a homework assignment or to guide in-class discussion. 
Reading Lists
Add cases to Reading Lists by clicking on the "List" button at the top right. You can embed reading lists into your Learning Management System. Click here to learn more about Reading Lists and embedding content.
Further Reading and Related Content
You can find Related Content in the menu on the right of every case. Explore this menu if you're looking for related cases, books, videos, datasets and more!
Published Articles
If an author of a case study has published journal articles, you'll find links in the Published Articles menu on the right. These can be useful supplements to the case study, and show sstudents how they can transition from the case study model to other ways of reporting their results.